Pervaya Mebelnaya at the INDEX International Design Exibition
Новости





Defanse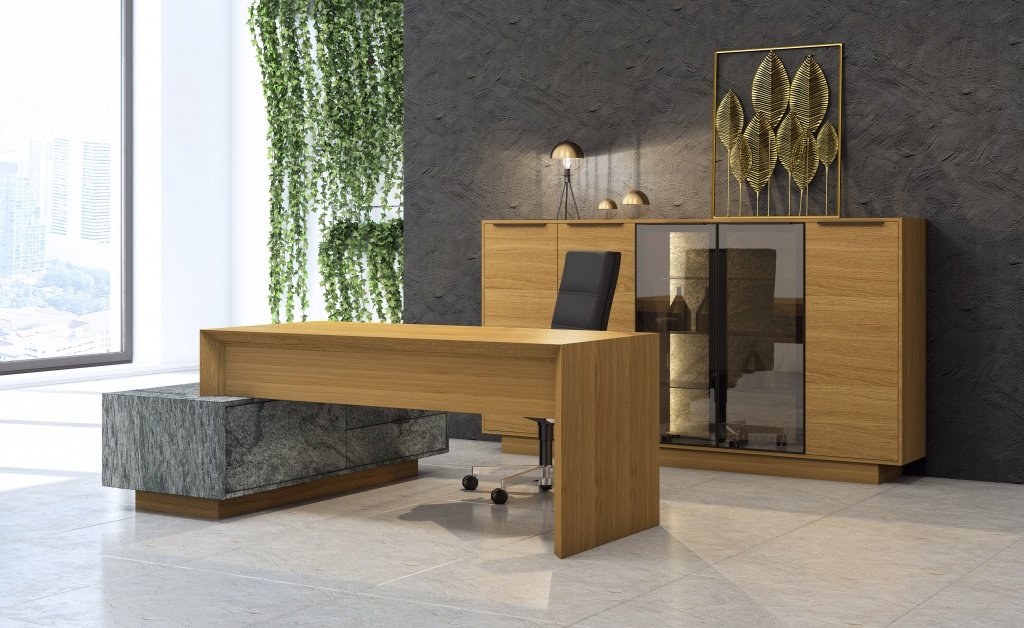 Design:
The modern-style director's office gives the interior individuality and reflects the director's personality. The office beautifully fits into the concept of a progressive company. The furniture unifies strict geometry, an imposing appearance, and texture. This embodies the reliability and trustworthiness of the company and shows the office's owner to be a serious businessperson who can be counted upon.
The uniqueness of the design of the director's office is achieved by using unusual stylistic solutions. Pervaya Mebelnaya Fabrika has created its collection of interior solutions based on innovative design principles and strives to combine dynamic and noble forms in every interior object. Each design element is part of a unified style concept.
Features: a dynamic composition built by combining textured stone and the rich texture of oak veneer. The natural stone pattern, going from facade to facade, creates the impression of solidity.
The tabletop is U-shaped with a 45-degree edging. The glass elements of grey metal shapes combine well with the texture of wood and stone.
Materials:
Facade: MDF, Black Star stone veneer, stone veneer edges. It can be combined with natural oak veneer.
Body: MDF, natural oak veneer
Tabletop: MDF, natural oak veneer, solid wood
Modena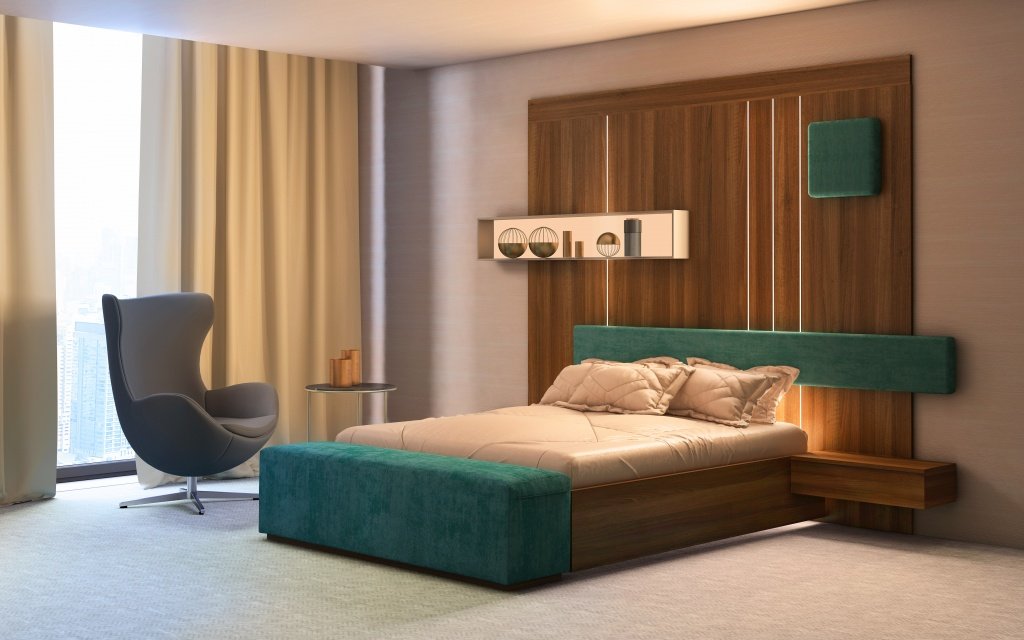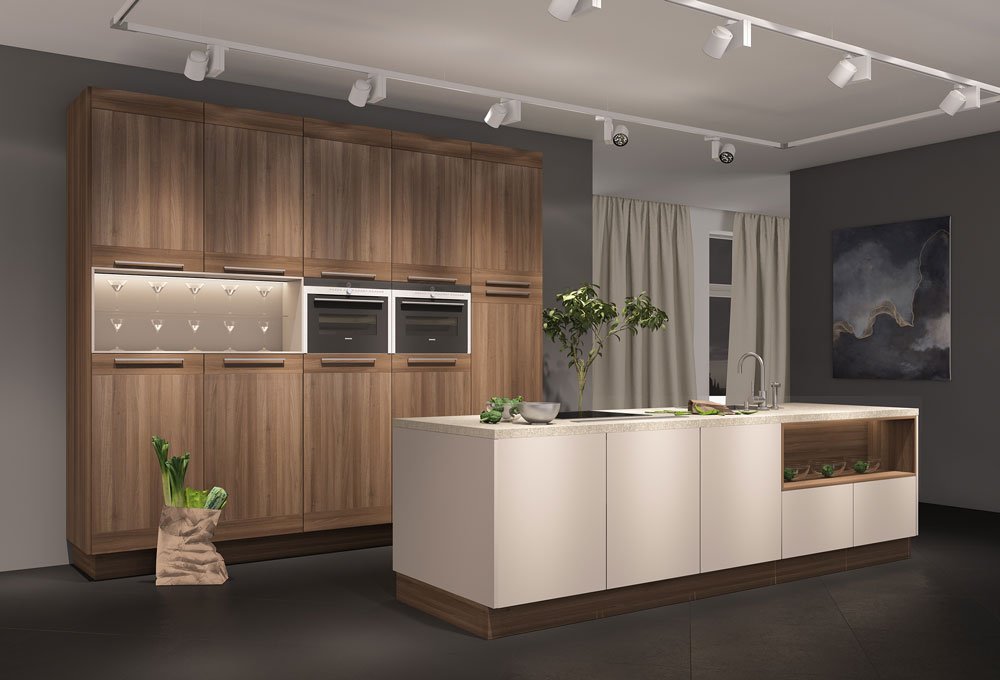 Design:
The features of this interior are its facade and veneer, with a stylish set creating the impression of a solid facade.
The pointing around the perimeter brings out a subtle play of light and shade on the facade. The multi-directional pattern of the wood grain creates a contrast with the central part of the veneer. The integrated lighting and bright soft elements of the bed's headboard create the impression of comfort. The open space in the headboard can be used to place accessories.
The noble aesthetics of the interior with its modern shapes reflect the correct balance of shapes, colours, and eco-friendliness.
Materials:
Facade: MDF 19 mm, natural American walnut veneer.
Body: Laminated chipboard 16 mm Beige sand
Soft elements: Upholstery Instroy & Mebel Art Prado 917
Space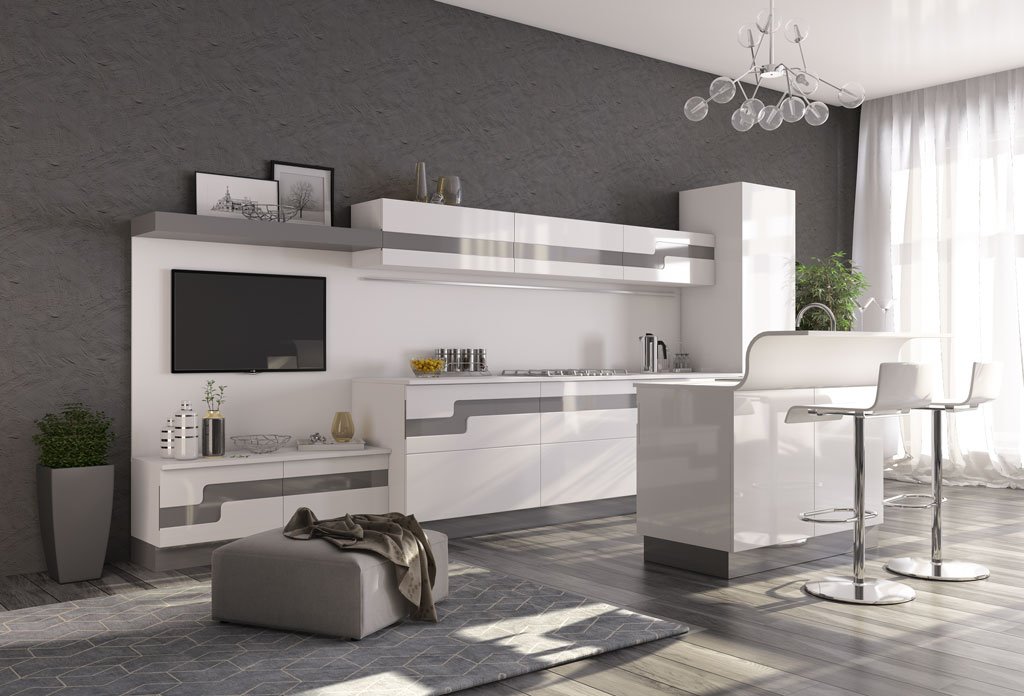 Design:

The rhythm of life in modern megacities and Zaha Hadid's unique architecture inspired the designers of Pervaya Mebelnaya
Fabrika to create these apartments. Contrasting lines of the facades seem to permeate the space.
The curved breakfast bar countertop made of artificial stone effectively replicates the façade's plasticity. 'Space' supports fashion
trends: as part of the kitchen's integration with the living room, a TV is built into the wall panel, which makes it easy to view
from the breakfast bar.
The 6-colour palette gives freedom for both implementation of whole images and the addition of expressive accents. The
facade can be either chosen as one-piece or assembled from three elements (facade with a linear pattern). Such a kitchen will
certainly please creative people, people of strong character, and those who aspire to successes and victories.

Materials:
MDF, matte enamel.